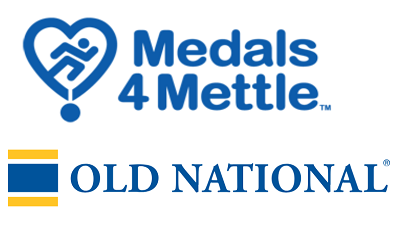 Press Release: Medals4Mettle receives $25,000 matching grant for Giving Tuesday Campaign and $2,000 grant from Old National Bank.
Medals4Mettle receives $25,000 matching grant for Giving Tuesday Campaign and $2,000 grant from Old National Bank. Scientific verification of Medals4Mettle mission is published in prestigious medical journal.
            
                                            Contact: Steven F. Isenberg
                                                       sisenberg@medals4mettle.org
                                            (317) 3551010
   Indianapolis, IN Nov. 1, 2018:  Steven F. Isenberg, MD, Founder and Director of Medals4Mettle, announced today that Medals4Mettle (M4M) has received a $25,000 matching donation from an anonymous foundation. This gift will match donations made to Medals4Mettle (www.medals4mettle.org) on Giving Tuesday, November 27, 2018.  In addition, Mark Bradford, Regional CEO of Old National Bank (ONB), announced that ONB will donate $2,000 to the Medals4Mettle "Kindness Emergency" Giving Tuesday (GT) campaign. M4M's GT campaign will ask for donations to purchase additional colorful M4M-branded lanyards that attach to the many donated medals awaiting delivery to courageous children battling illness.
"Medals4Mettle appreciates this growing financial support for our mission," said Dr. Isenberg.  "Since 2005, financial support of the Medals4Mettle mission has grown to include national and international financial donations from those who also donate their hard-earned medals, visitors to our website and social media, private foundations, corporate matches and corporate foundations."

   Isenberg also announced the publication of "Medals4Mettle: A novel method to teach humanistic behavior to medical students" in Pharos, the Alpha Omega Alpha Medical Honorary publication. http://alphaomegaalpha.org/pharos/2018/Summer/2018-3-Isenberg.pdf. "Medals4Mettle applied the rigors of scientific proof to our mission," said Dr. Isenberg. The M4M mission is to celebrate and reward the individual and collective courage of all human beings by facilitating the personal and anonymous gifting of marathon, and other endurance event finishers' medals, to those who have demonstrated similar "mettle" or courage. Recipients of medals can be any age, but medals are typically awarded to in-patient and out-patient children who, as Isenberg says, "are running a much more difficult race than those who donate their medals." Isenberg added, "The publication of this research in this respected peer-reviewed, scientific journal verifies the value of our mission that has been supported by countless compassionate donors and volunteers for over thirteen years." 
   Medals4Mettle is supported by a worldwide volunteer staff. M4M volunteers make "mettle rounds" where they have presented over 60,000 medals in a "pay it forward" concept at eighty hospitals and clinics around the world. M4M has been featured as the Grand Prize winner in the inaugural "Human Race" section of Runner's World magazine and in many local and national publications. Medals4Mettle is the initial recipient of "The Arnold P. Gold Humanism in Medicine" Award, the National Jefferson Award and many local and national community service awards. M4M's mission has been utilized to teach humanism to medical students, other graduate students and in elementary education. Medals4Mettle is a 501c3 public charity with Gold status on GuideStar, a non-profit rating website. (https://www.guidestar.org/profile/35-2260007)

   For more information about Medals4Mettle visit www.medals4mettle.org, email sisenberg@medals4mettle.org, or mail Medals4Mettle 1400 North Ritter Ave, Suite 221, Indianapolis, IN 46219.