Benefits for everybody: the recipients, the donors, the volunteers, and the families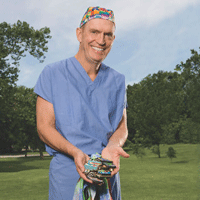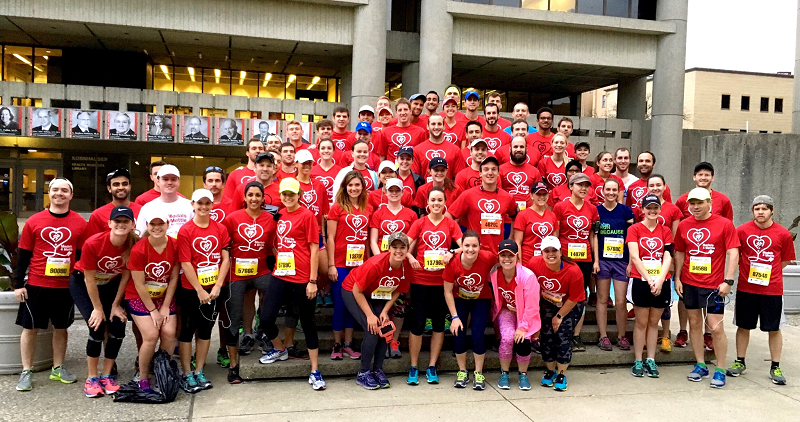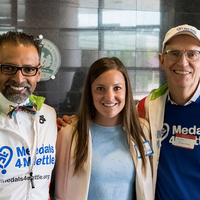 Recognizing that a disconnect occurs between what we aspire for patients and what ends up transpiring in each patient-physician contact, some medical, dental, nursing schools and residency programs have placed more emphasis on humanism in medicine. A growing number of these programs have adopted the core mission of Medals4Mettle® to illustrate the importance of humanistic behavior to healthcare students. The positive outcomes of Medals4Mettle Medical, founded in 2008, are experienced equally by our volunteers, donors, recipients and patient families.
The benefits have been demonstrated in a scientific, peer-reviewed manuscript published in THE PHAROS of Alpha Omega Alpha Honor Medical Society. The publication describes how a Medals4Mettle program can be integrated into medical education to teach compassion as an important value-add to their normal curriculum. The unique blend of the physical activity required by the medical students to earn an endurance medal, combined with learning the "mettle" these kids and their families must endure through the health challenges they face – offers a unique opportunity to teach humanistic behavior. By encouraging first and second year students to participate, they have the opportunity to experience the benefit of connecting compassionately early in their training.
The M4M Medical program is fully customizable to work for your medical, dental, nursing, physical therapy, pharmacy and other graduate and undergraduate programs. See the smiles and hear the laughter in videos here. Medical schools at the University of Louisville, Indiana University, University of Cincinnati, University of Kentucky, Medical University at South Carolina, Vanderbilt University and University of Missouri have all at one point hosted Medical chapters. Students who do not wish or cannot complete an endurance event can still participate as volunteers.
If you are interested in learning more about Medals4Mettle Medical and possibly starting a chapter, please submit your information below. You will then be directed to download a document that provides detailed "HOW-TO" information to customize and implement a Medals4Mettle program. Once you submit your information, the medical director for Medals4Mettle Medical will be in touch with you.
Thank you for your interest in Medals4Mettle!
Medals4Mettle Leadership
Director of Medals4Mettle Medical
Pradip Patel, M.D.
pradip@medals4mettle.org
Founder and President
Steven F. Isenberg, M.D.
steven.isenberg@medals4mettle.org
Corporate Mailing Address:
Medals4Mettle, 450 East 96th Street, Suite 500, Indianapolis, IN 46240
Phone number: 317-818-6034
Medals4Mettle is a public non-profit 501(c)3 organization.