Volunteers keep our organization up and running
What can you do?
Medals4Mettle® is always looking for those who can help keep our organization moving forward. Whether it is donating a medal, nominating deserving recipients, or simply giving a few hours of your time at an event collecting medals or helping distribute them, we welcome your help in supporting this worthwhile cause.
If interested in learning more, please read the information below, consider being a chapter coordinator if there is not one in your area, or Send Us Email to learn more. Please include your your name, address, and phone number and the manner in which you would like to help. Thank you.
Local Opportunities
Donate a Medal:
Send your medal to the Chapter closest to your location.
Become a Chapter Coordinator:
First determine if there is already a Chapter Coordinator in your area by visiting Chapters page. If there is already one, then contact the Chapter Coordinator to learn how you can help. But, if there is not a chapter in your area, then Learn More about the activities of a chapter coordinator and how to start one in your area.
Be a Chapter Volunteer:
Interested in supporting your local M4M chapter's efforts but don't want the full responsibilities of a Chapter Coordinator, then contact your local Chapter to learn how you can help. 
Additional volunteers are especially needed in the Indianapolis area at this time!
$30.00:Make a donation of $30 or more and you are eligible to receive, upon request, your own ribbon. The M4M ribbon can be attached to an earned medal of your own to give to a deserving recipient you may know.
$150.00: Make a donation of $150 or more and receive, upon request, your own Blue Dri Fit Race Style Medals4Mettle Unisex T-shirt. Shirt Size (Adult S, M, L, XL are available) will need to be provided. Due to cost/postage, exchanges are not possible. 
To donate, please use the Donate button below to pay via PayPal. Thank you for your generosity.
Or send a check made payable to Medals4Mettle. Send it to: Medals4Mettle, 450 East 96th Street, Suite 500, Indianapolis, IN 46240. Donations of money are applied to help offset the costs of manufacturing ribbons, distributing and awarding medals to recipients, chapter promotional materials, and ongoing shipping and administration costs of running the organization.
All contributions are tax-deductible and receipts are provided.
If you would like to donate an earned marathon, half-marathon, or triathlon medal, please take a moment to fill out a Donation Form and tell us about yourself and where the medal is from to provide us and M4M recipients some background on you and your gift.
We also offer a special Medal Gift Request Program if you would like us to deliver a medal with a Medals4Mettle branded ribbon attached to a specific recipient that you designate. Please take a look at the Medal Gift Request Form for more details of the program.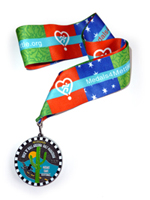 Note to our medal donors: Medals4Mettle accepts only earned marathon, half-marathon, or triathlon medals. In the spirit of fostering philanthropy, we also accept medals earned by children who wish to donate them to other children. We appreciate your donated medals, however please do not send badges, pins, patches, stickers, plaques, ribbons or trophies as these cannot be used. Only the medals noted above are accepted.
Please package your medal(s) in a large envelope with card board or bubble wrap around it to prevent the envelope from becoming torn or destroyed in postage machines. Send your medal to the nearest Chapter address listed on the Chapters Page of this site. Thank you!
To reduce your postage costs and our labor, please remove the medal from its ribbon before mailing. We will award your medal with a clean brilliantly-colored Medals4Mettle ribbon.